TRILATERAL SUMMIT HELD IN ANKARA @ 28 May 2013 03:06 PM
---
May 15, 2013
Serbia will use its best efforts to intensify regional cooperation, so that the region is politically and economically stable, said H.E. Mr. Tomislav Nikolic, President of the Republic of Serbia, in Ankara. At the trilateral summit, Serbia, Turkey and Bosnia and Herzegovina concluded that progress has been made in the political affairs of there states and now there is a need to improve economic cooperation. President Nikolic urged Turkey not to lobby for Kosovo's membership in international organizations.
Today's meeting of Abdullah Gul, Tomislav Nikolic, Nebojsa Radmanovic, Bakir Izetbegovic and Zeljko Komsic, was preceded by the signing of the Declaration on economic and trade cooperation between the three countries.
Upon completion of the plenary meeting, President Nikolic said that the meeting will result in stronger political relations, and that this important event should result in economic cooperation, given that it has the greatest impact on the daily problems of citizens.
"Serbia wants to continue trilateral cooperation, and I am confident that our meeting will contribute to the further development of our relations. We will make further efforts for cooperation at all levels, so that our future is stable and facing economic progress" Nikolic said.
"Turkey is our partner with whom we can get on the markets that we did not open, it can help us to do it with her investments and our technology because we have an excellent trained staff," Nikolic said, pointing out that the Western Balkan countries are able to develop and use the latest technology ,but that they need capital.
Regional cooperation is quiet but it is on the rise and increases by the day, the Serbian president said, stressing that citizens can only benefit from the fact that the leaders of the three countries have established good personal relations.
Chairman of the BiH Presidency Nebojsa Radmanovic said that he expects that the result of the trilateral summit will be increased economic exchanges among the three countries.
The leaders of Turkey, Serbia and Bosnia and Herzegovina have adopted the declaration at the end of the meeting, and they welcomed the positive developments in the relations between the three countries.
The leaders supported the reform processes in approaching European standards, commitment to mutual assistance and cooperation in the EU accession process and welcomed the European Commission's recommendation to open accession negotiations with Serbia.
Turkish President Abdullah Gul stated that Turkey gives great importance to cooperation with Serbia and Bosnia and Herzegovina.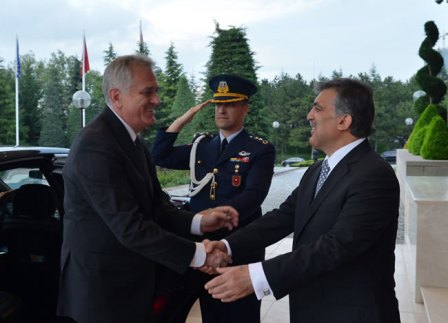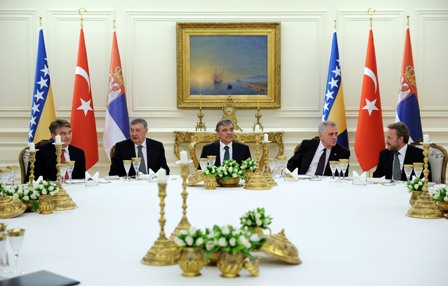 ---